Here is a WESTCOASTER 3 wheel trike, from about 1966. It is a MAILSTER model. Much like a Cushman Mailster, but it is not a Cushman. It is so similar to a Cushman Mailster, that when I bought it, I thought I was getting a Cushman with an OMC engine. Well, this Westcoaster has an ONAN engine. The ONAN engine is not in the vehicle here, but it does come with the Onan engine. The Onan engine is a 2 cylinder and there are pictures below which you can click on to see a bigger image. From my online research, I think the motor is an 18 HP. The engine does not turn over by hand. It looks fine, but I know nothing other than that about this Onan. I checked the motor mount configuration on the engine and the frame of the Westcoaster, and it is an exact match. There is a 4 speed transmission bolted to the rear of the motor. (3 speeds foward, 1 reverse.). It is a column shift.
The outer dimentions of this Mailster (for trailering purposes) is 108 inches long (9 ft.), by 56 inches wide (4 ft. 8 inches), by 6 ft. tall.
I had a question about track width;
Outside to outside rear tires measure 56 1/4 inches. Inside rear tire to inside rear tire is 46 inches. Distance from wheel center rear wheel to wheel center front wheel is 78 inches. Of course, the front wheel tracks directly in center of the rear wheels.
This trike DOES NOT have a title. I cannot even find a VIN # anywhere. In Pennsylvania, the dmv considers 3 wheelers Motorcycles.
The machine rolls around easily and the wheels spin freely. When sitting in the drivers seat, and someone pushing with a tow bar & garden tractor, the Westcoaster steers VERY easily, and smoothly, with no rough spots at all. The steering is very responsive, and has no play from steering wheel to the front tire.
The handbrake, located at the drivers right side works good. It operates only the rear wheels. The hydralic brakes (Girling master cylinder) do not work. There is still brake fluid in the master cylinder. I would guess that the rubber boots need rebuilding. The hydralic brakes operate ALL three wheels.
It has been stored for many years (more than 20) out of the direct weather in a three sided garage.
The entire body of this Westcoaster Mailster is made of FIBERGLASS. Most of the bodywork on the fiberglass has been done, smoothed out and nearly ready for primer.
There is an overhead fan (see pics) and a heater blower under the dash. (Also, in pics below). It needs complete window glass. There are some window gaskets with the extra parts, maybe good for templates, but again, this machine has no window glass. Fortunately, the window glass required for this vehicle is all flat and can be easily be custom made at any glass or auto glass company.
Both sliding doors can be closed, and need some work on the roller hardware (included) for them to operate smoothly.
I am including an ad from the Cushman dealer (1 page) that I got in about 1993, representing a Cushman Carrier accessory for the Turf Truckster. It is a bit crinkled and has some discoloring.
I have included many pictures here so that it would be the next best thing to actually seeing this Westcoaster & parts in person. If you want to come to my location and see it yourself before bidding, I will be glad to arrange that if you message me through eBay.
Winning bidder must come to this location to pick the Westcoaster Mailster. (12 miles from Quakertown, PA. 45 miles north of Philadelphia, PA).
I would like to receive payment for this item within 10 days of close of auction. I'll hold the vehicle on my property for up to 60 days for the winning bidder, provided a 20% non refundable deposit is secured.
If you have any questions, or would like a Hi-Resolution picture of any of the pics seen here emailed to you, please feel free to message me.
Thanks for looking!
Click on any thumbnail below for a larger picture of each image
\/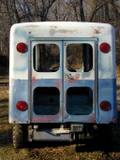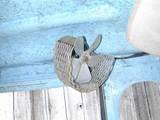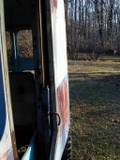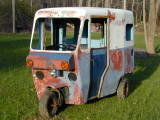 Here is a pic of the Cushman Truckster Ad that I am including in this auction;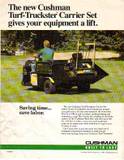 These last 3 pics below are photomerged, that's why they might look funny with a split...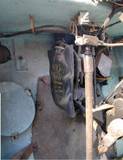 Here is a comment from an ebayer from before;
" FYI:
When I lived in Lancaster, I installed the engine, trans and axle from a VW Bus in one of these back in the 80's. In fact, I bought it from Maple Grove Race track. It was not fast but carried the front wheel through all 4 gears and was a real crowd pleaser on Saturday nights on the strip. It was a blast and if I lived closer I'd do it again. I always regretted selling that thing. Good luck selling it. If anyone wants to know my building "secrets" please feel free to write me. Miker1615@aol.com. "
And another comment from the same ebayer;
" FYI.
I had two of these things. One was converted to a Hot Dog wagon with the original Onan power. The other was refitted with the engine and transaxle from a VW bus. It was not fast but would carry the front wheel through all 4 gears. It was a riot to drive. I wish I lived closer, I'd do it all again. Good luck in selling and buying.
If anyone wants my building "secrets" I'll be happy to share them. "
I thought these comments might be interesting to people who like these things.